Holiday Search
Start your holiday search for accommodation to Santorini here:

SANTORINI WEATHER


USEFUL INFORMATION
CURRENCY
BEST SANTORINI COASTS

Newsletter
HOTELS KARTERADOS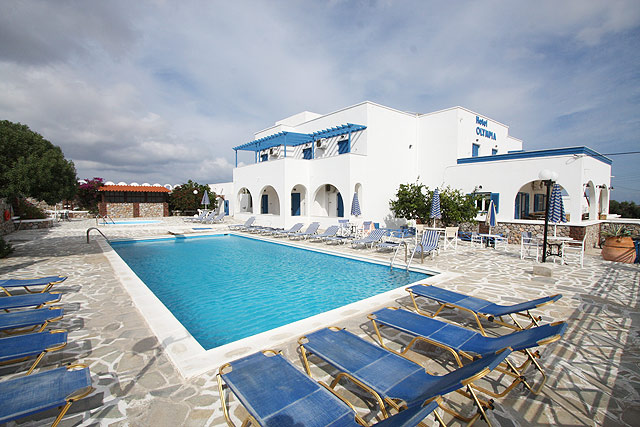 Place :
KARTERADOS
Classification :
3*
Accommodation Type :
Hotel
Hotel Olympia
Authorized Licence by Greek Ministry of Tourism and Greek Tourism Organisation


Tel
+30 22860 22213

Address Details
Address:
Zipcode:
City:
Karterados

Fax
+30 22860 22498

Site
www.greekhotel.com/cyclades/santorin/fira/olympia/home.htm
Hotel Olympia ROOMS


Hotel Olympia offers a traditional Cycladic setting conveniently located in a quiet and peaceful neighborhood, yet only a few minutes walk (600 meter) from Fira.
Hotel Olympia is within walking distance from restaurants, taverns, shops, currency exchange and bus service points. We offer two swimming pools, one catering for adults and the other for children where you will enjoy a relaxing atmosphere.
We also provide spacious private parking, a lounge/bar area and a friendly staff willing to assist with rentals, tours and any other need you may have.
Our comfortable rooms are provided with daily cleaning, private bathroom, air-conditioning, mini-refrigerator, satellite TV, direct dial phone and private balcony overlooking the spectacular Aegean Sea. We also offer fax and safety deposit service. Guests can expect a delightful and memorable stay at Hotel Olympia.
Image Gallery click images to enlarge


OFFICIAL RATES for 2023 in Euro
Rooms
Low and Middle
1.Apr.10 - 30.Jun.10
High
1.Jul.10 - 31.Aug.10
Low and Middle
1.Sep.10 - 29.Oct.10
Single Room
30
50
30
Double Room
35
60
35
Triple Room
50
75
50