Holiday Search
Start your holiday search for accommodation to Santorini here:

SANTORINI WEATHER


USEFUL INFORMATION
CURRENCY
BEST SANTORINI COASTS

Newsletter
APARTMENTS FIRA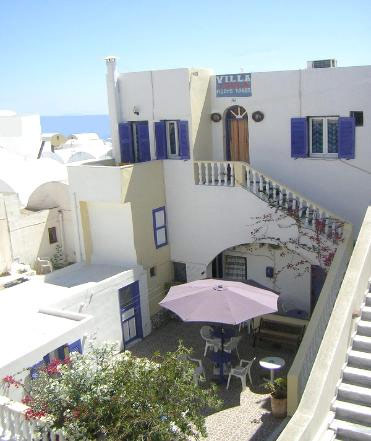 Place :
FIRA
Classification :
2 KEYS
Accommodation Type :
Apartment
Villa Toula
Authorized Licence by Greek Ministry of Tourism and Greek Tourism Organisation


Tel

Address Details
Address:
Zipcode:
City:
Villa Toula ROOMS


Villa Toula is a 10 room, tourist class hotel (C class) with basic rooms located just beneath the main square of Fira town close to restaurants, bars, banks, bus and taxi and, most importantly, just a few meters from the fabulous Caldera View! Each room has either 1 double bed or 2 single beds and there is also a room for three persons and one for 4 persons. Each room has a bathroom with shower, telephone, TV and air conditioning, Continental Breakfast is included.
OFFICIAL RATES for 2022 in Euro
Rooms
Winter
Nov 1- April 30
(closed dec 15-jan 15)
Low
01 May -31 May
& 01 Oct - 31 Oct
Mid
01 Jun - 30 June
& 01 Sept - 30 Sept
High
01 July - 31 Aug
Price for 2 persons per night
30
40
50
60
Price for each extra person (in same room)
15
20
25
30